MV-1 VEHICLE INFO.
---


The MV-1 is the only purpose-built vehicle designed from the ground up for wheelchair accessibility.
It already meets or exceeds the guidelines of the Americans with Disabilities Act (ADA) from the moment it rolls off the assembly line. The MV-1 meets all applicable Federal Motor Vehicle Safety Standards (FMVSS) straight from the factory with no modifications that could jeopardize the vehicle's structure. With an extra-wide door and a ramp that deploys from within the floor, it is incredibly accessible.
The MV-1 is designed for wheelchair accessibility, yet well-suited for a variety of uses. You will be amazed at what the MV-1 can do for you. Whatever you need to do, wherever you need to go, one vehicle can handle it all; the MV-1.
The MV-1: Built for everyone.
Easy entry and exit for all passengers and cargo thanks to a low step-in and floor-to-ceiling height of nearly 5 feet.
Convenient loading with side entry through a 56" high and 36" extra wide door.
Large rear bench seat provides a perfect fit for everyone.
Ideal vehicle size. configuration and maneuverability for efficient transportation grade.
Comfortable commercial driver's seat to reduce driver fatigue.
Power windows, power mirrors, and other convenient options come standard.
24-gallon gasoline tank provides the MV-1 with an estimated 350-mile range.
Seating for up to 5 passengers with the optional rear-facing jump seat.
Ramp deploys from within vehicle floor and has a design load meeting ADA guidelines.
Ramp lighting and anti-slip floor covering are a standard safety feature for safe accessibility.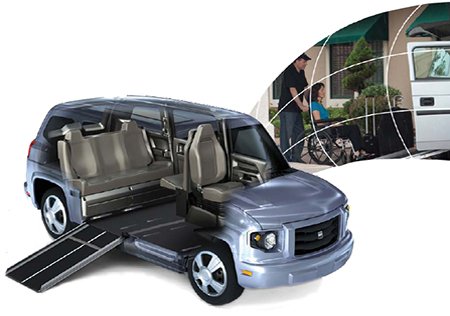 The MV-1: Reliability, Durability & Performance.
Body-on-frame design: the MV-1 body mounts to a full frame to create a more reliable solution than retrofitted uni-body vans.
Fully boxed and tubed supportive cross members provide additional frame stiffness and durability.
Built like a truck, yet rides like a car.
A rear suspension with steel-leaf springs and air shocks delivers long term durability and a comfortable ride for all passengers.
Front Short Long Arm (SLA) suspension provides a tight turning radius with rack and pinion steering.
Four-wheel disc brakes designed with large rotors for improved lining life and the ability to handle the best-in-class gross vehicle weight (GVW) of 6,600 lbs.
Anti-lock Brake System (ABS) and traction control come standard.
Electronic Stability Control (ESC), including an anti-roll function, provides increased safety.
All-season tires are a standard feature.
Ford 4.6L V8 Engine.
Ford Electronic 4-speed Automatic Transmission with overdrive.
The frame is coated with a rust inhibitor to increase longevity of the vehicle.
Extensive "real world" reliability and durability testing to industry best practices.
Opt for factory - installed Compressed Natural Gas (CNG) fuel system for much lower fuel cost.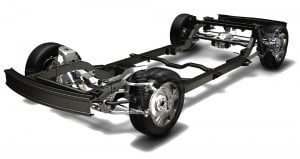 The MV-1: Peace of Mind is Integrated Right at the Factory.
The Securement & Restraint Package provides maximum stability and protection for the passenger using a wheelchair.
The MV-1, is certified to Federal Motor Vehicle Safety Standards (FMVSS) to meet all applicable safety and crash test requirements.
The ramp is positioned on the side of the vehicle allowing passengers to enter and exit safely, away from traffic.
Integrated under the floor ramp system so you do not lose any interior space or block entry/exits.
Lighted ramp entry with side barriers that automatically deploy.
Electronic cut-off switch that prevents vehicle operation when the ramp is actuated.
Ten universal floor tracks plus seat belt locations that allow for the wheelchair and scooter placements in either the front or back row.
Universal wheelchair restraint track system integrated into floor.
High-strength, steel-reinforced front and rear bumpers, steel side-impact beams are built-in.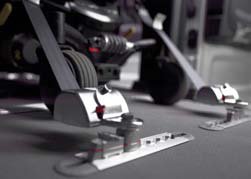 The MV-1: Vehicle Specifications
Dimensions
Wheelbase
Length
Height
Width
Curb Weight
Curb Weight
GVWR
Turning Circle
Cargo Volume Index-Gasoline
Cargo Volume Index-CNG
Access Door Opening Usable Width
Access Door Opening Usable Height
Interior Height at Rear Wheelchair Position
Interior Height at Forward Wheelchair Position
Overall Interior Floor Length
Interior Width at B-Pillars
Vehicle Ground Clearance (minimum)
Ramp Extension-Short Deployment (Power/Manual)

Ramp Extension-Long Deployment
Usable Ramp Width
Ramp Angle-Short Deployment (Manual)
Ramp Angle-Short Deployment (Power)
Ramp Angle-Long Deployment (Power)
Mirror to Mirror Width
Mirror to Mirror Width (folded)
Header
-
-
-
-
-
-
-
-
-
-
A
B
C1
C2
D
E
F
G1

G2
H
I1
I1
I2
J
-

English
22 in
205 in
75 in
79.4 in
5,055 lbs
5,312 lbs
6,600 lbs
42.8 ft
36.4 ft3
29.1 ft3
36 in
56 in
59.5 in
58.3 in
81.5 in
64.5 in
6 in
69.5 in
63.75 in
92.25 in
30 in
1:4.1 Ratio
1:4.4 Ratio
1:6 Ratio
79.69
71.73

Metric
3,099 mm
5,207 mm
1,905 mm
2,017 mm
2,293 kg
2,409 kg
2,994 kg
13,045 mm
1,031 L
824 L
914 mm
1,422 mm
1,511 mm
1,481 mm
2,070 mm
1,638 mm
152 mm
1,765 mm
1,619 mm
2,343 mm
762 mm
-
-
-
2,024mm
1,822 mm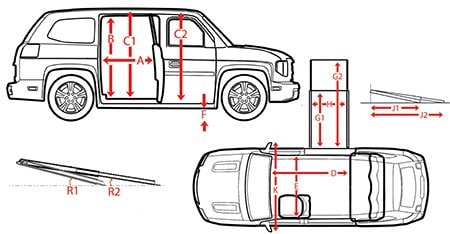 Made in the U.S.A.
The MV-1® is assembled by AM General LLC in their world-class assembly facility in Mishawaka, Indiana, and meets the "Buy America Act" requirements for domestic content required for funding by the Federal Transit Administration. The MV-1® is a unique mobility solution for the 21st Century built right here in the U.S.A.
Company Info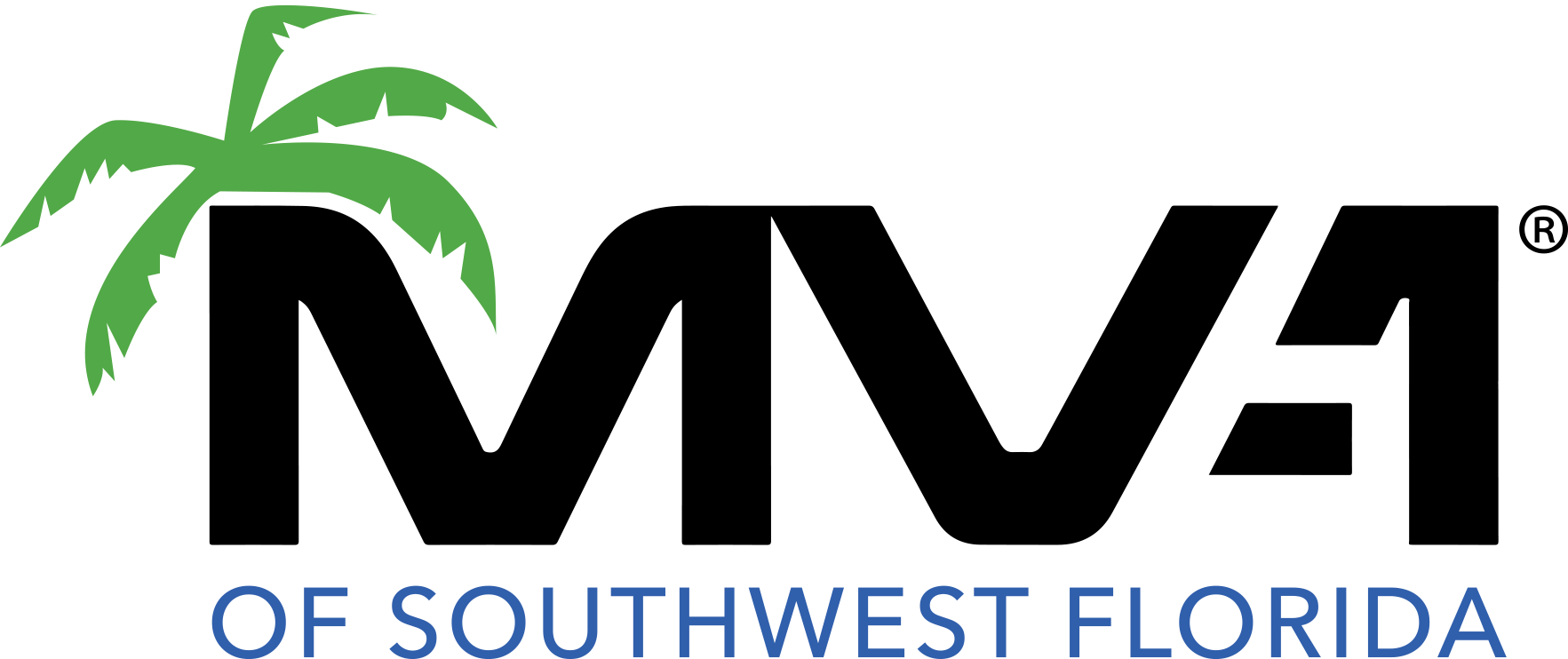 22400 S. Tamiami Trail
Estero, FL 34231
www.mv-1ofsouthwestflorida.com
Email: bcollins@gallowayauto.com
Phone: (239) 390-5700
Fax: (239) 390-5731
Department Hours
Monday

9:00AM - 8:00PM

Tuesday

9:00AM - 8:00PM

Wednesday

9:00AM - 8:00PM

Thursday

9:00AM - 8:00PM

Friday

9:00AM - 8:00PM

Saturday

9:00AM - 6:00PM

Sunday

Closed